About Us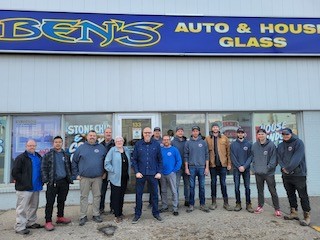 Ben's Auto & House Glass, Prince Albert's complete glass repair shop, is the place to call for the fastest repairs! Because we're a locally-owned, customer-centric company, and a commitment to excellence, Ben's Auto & House Glass has become Northern Saskatchewan's largest window repair and installation shop – and also an industry-leader in turnaround times!
Born out of a strong family spirit, Ben's Auto Glass opened in 1987 by Ben Darchuk, as just a little auto glass shop with a staff of 2 employees. In 1997 the business added residential windows and doors to their list of services, and now has become your one stop shop for all home, auto and commercial needs. Plus we have grown to be the biggest glass shop in Central and Northern Saskatchewan.
With a staff of 11, Dave Koppelaar, Co-Owner/Manager attributes their success not only to their customer service excellence, but to the talented, family-like team. These dedicated and experienced staff contribute to Ben's high-volume service, quality work and customer excellence. With a great team and a shop filled with the latest up-to-date equipment to service the most modern, aluminum vehicles and custom home glass needs, Ben's Auto & House Glass strives to bring the best quality and service to their customers.
To carry on with the strong family spirit, Leanne Darchuk, Ben's Wife has remained a partner in the business, despite her husband's untimely passing in 2012. She continues to be a part of this amazing business that continues to grow and serve Prince Albert and the local area area with their quality services and dedicated customer service excellence!